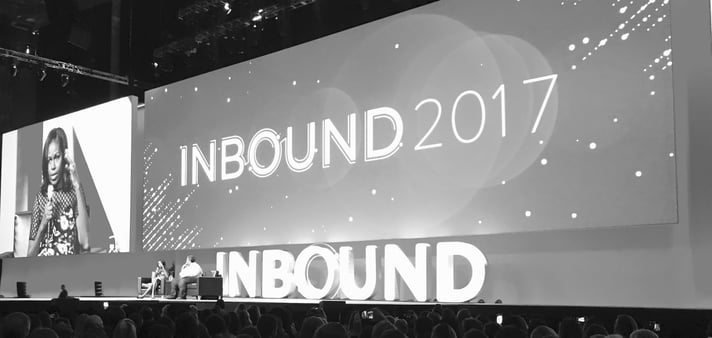 Having spent the last few days at the Inbound 2017 conference in Boston MA, I was fortunate this morning to attend a keynote interview with the former First Lady, Michelle Obama. A truly inspirational lady, who talked about her experiences during President Obama's two spells in Office as well as what she has been involved in both during and since.
As First Lady, Mrs Obama launched and led four key initiatives:
Let's Move – a national initiative to challenge childhood obesity
Joining Forces – supporting service members and their families
Reach Higher – aimed at inspiring young people to take charge of their future
Let Girls learn – focussed on helping adolescent girls around the world go to school
So what did she learn from her time as the First Lady? What things guide her leadership and how might this help us in our roles as leaders?
Well here we go, right from the former First Lady's mouth; here is Mrs Obama's guide to her leadership and her thoughts on how to achieve your potential.
You have the responsibility to develop you and others. Your role as a leader is to grow and develop your people. To do this requires your own growth as a person too. You are no longer responsible for just yourself or your performance and have a duty to nurture and develop those around you.
Hold high standards of yourself and of others. High standards relates to many aspects of your leadership: if something is worth doing it must be done well. Part of the legacy of leadership is leading with grace and being humble. You must set yourself high standards in this regard and educate others to do the same. Hire well, hire people with attitude, and set high standards in the recruitment process.
Treat people as if they were your family. Don't think of your team as employees, think of them as family. Be empathetic, be respectful, ask them how they are and recognise their humanity. Mrs Obama never starts a meeting without acknowledging the people in the meeting as individuals who she is interested in. Begin by asking after them, not of them.
Set your team up for success. Recruit well and ask for a lot: but not too much. It is easy to overload people, especially your high performers and it is important to maintain balance. Don't let your teams take on too many tasks and ensure your senior staff ask the question "what would that feel like for you, for others?"
You have to succeed. Once you commit to something, you have to succeed, so choose carefully. Don't feel like you have to prove things to others by taking on too much or too many challenges. Better to choose well and deliver quality than to take on too much and deliver anything less.
In addition to these Mrs Obama also discussed how both her and 'the Rock' learnt so much about themselves and I believe we can all learn from this.
Firstly,

you can really do anything.
You should always show patience as a leader.

The long game is always preferential to the short term easy wins. Be kind as being angry in the moment never wins over patience in the long term.

Always be yourself and love yourself.

If you don't like yourself it is hard to stand up to others.

Show compassion as a leader and lead with empathy.
Don't be afraid to fail.

The dark times are the most important periods of growth. Don't run from them, embrace tem.

You must be resilient

as

there will be doubters and challenges

; but these can make you stronger.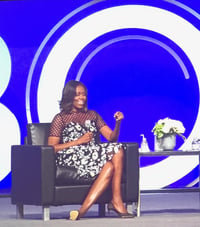 And there you have it. Mrs Obama's thoughts on becoming a better leader.
And if you would like to find out more about what she thought of the White House, President Obama's successor, what she and her husband are doing next, or what it was like being in the public spotlight for 8 years; then you should have been there I'm afraid. I am sworn to secrecy, and I am not going to tell.