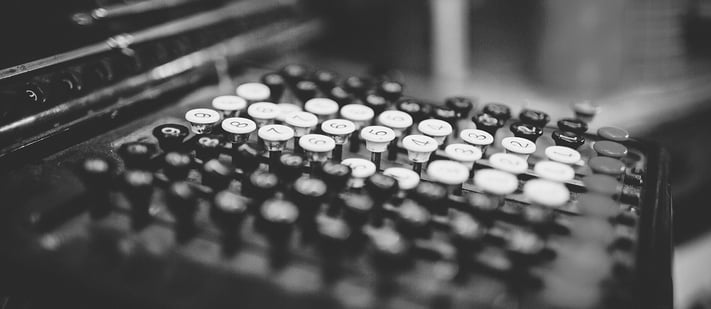 Last time I spoke about the digital apprenticeship service and your opportunity as a levy-paying employer to register. In the constantly evolving journey for employers and training providers we now seem to refer to this as the apprenticeship service. However its not for me to get into a debate here about what the service should be called: rather try to provide further clarity and support to you all around what and how it will operate.
If you are an employer with a wage bill of less than £3 million this may well still be of interest as it is the intention for all employers who wish to use apprenticeships to use the service by 2020.
The apprenticeship service will include several features such as:
Estimate my apprenticeship funding

Find or choose an apprenticeship

Manage your apprenticeships

Recruiting an apprentice
Not all of these are 'live' yet so for those of you that have registered already some of this functionality will not appear. For those of you that have not registered then please consider it as soon as possible.
Estimate my apprenticeship funding will allow you to start planning your apprenticeship programmes. You will be able to estimate how much levy funding you will have to invest in apprenticeships, factor in non-England based employees and profile different apprenticeships and their likely maximum funding values. The profiling tool is extremely helpful and allows you to plan ahead for at least the next 3 years. One word of caution: you cannot factor in the prices you negotiate at this stage so my advise would be to look at this as the maximum values and therefore any negotiated rates would increase the remaining available funds for you moving forward.
Choosing an apprenticeship will support those of you who are not familiar with apprenticeships or who have not chosen a training provider. You will be able to search by job role rather than apprenticeship type, search for training providers within specific geographical locations and establish what degree of past employer and learner satisfaction rates were achieved. You will be able to access a full overview of each apprenticeship, its duration and the types of roles that it may suit. Again, a word of caution: many providers won't yet have satisfaction rates or achievement rates as they may be new to such delivery or have been delivering as sub-contractors to other larger work-based learning organisations. No score, or possibly a low score may not actually reflect upon their delivery.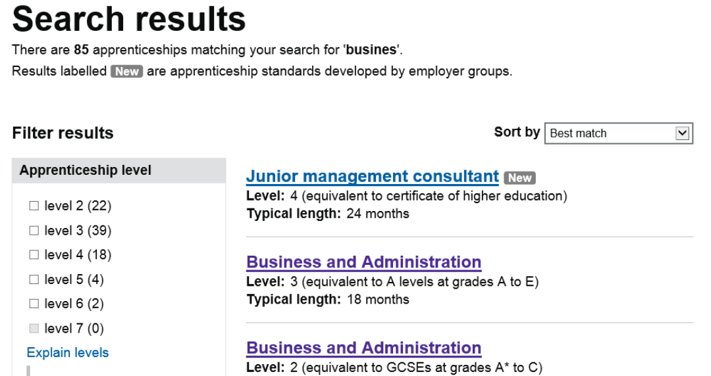 (Extract from BETA version of the apprenticeship service)
Managing your apprenticeships will be your opportunity to register and set up a secure account that enables you to manage your actual available funding and will be where you will be able to allocate roles and responsibilities internally as well as confirm which training providers are delivering what. Before registering, you will need information on all your PAYE schemes, your Government Gateway ID and an idea of whom will be responsible for what as you go through the registration and management process.
Once registered your account will tell you the actual English percentage, the debit amounts to be paid each month, the amount of committed and available funds as well as what funds are at risk due to the 24 month expiry rule. You will be able to add apprentices, start new apprenticeship contracts with training providers and update and authorize apprenticeship delivery.
The recruiting an apprentice feature will allow you to advertise vacancies through the Government apprenticeship vacancies system, providing features that allow you to advertise, shortlist and manage candidates for your vacancies. If you currently engage with apprenticeship providers they may well use the system for this now and will, in all likelihood, offer to support you on this.
The Government is committed to the system and, if you have not registered yet, I would strongly recommend doing so. If your wage bill exceeds £3 million per annum, you will be expected to make your first payments in May 2017, after you submit April's PAYE return. That doesn't leave you much time to register, familiarise your self with the system and plan delivery.
Features such as the choosing an apprenticeship provider can probably wait until after the Skills Funding Agency publishes the Register of Apprenticeship Training Providers (scheduled for early March) as any provider not on the register may not necessarily be able to access funding to support your apprenticeship programmes.
Further information can be found on Gov.uk, from your existing apprenticeship training partners or from myself so please don't wait. If you are not responsible for apprenticeships (and have been reading this for pleasure!) then please pass it on to the relevant people within your organisation. Learning & development teams and financial departments should be planning for this now and looking at how best to manage their account to ensure the best possible return.